The Art of Petticoat Punishment by Carole Jean

Part 13 - Bill Ward in Bizarre Books 1 of 2
Bill Ward illustrated many paperback books for Eros Goldstripe during the 1970's. I have been collecting them for just a few years so this review is limited.

Here is a list of the 'Bizarre Book Eros' issues that I have and my ratings (from 0 for no Petticoat Punishment to 3 for outstanding Petticoat Punishment) of the art and story. If you have any of the books not shown on this list and would like to sell, give or lend them to me, I would certainly appreciate it.

Issue Number - My Rating (0-3) - Author - Title - Date Published
BB 01 - 0 - Jose Lengua - TO THE REAR - 1971
BB 02 - 0 - Jack Waren - KAREN AND THE BIZARRE SPANKERS - 1971
*****
BB 03 - 0 - Jose Lengua - SIX WEEKENDS - 1971
BB 04 - 1 - Jose Lengua - REJECTED WIFE - 1972
He puts on her clothes for sexual stimulation from her and a boy friend.

*****
BB 05 - 0 - Jack Waren - THE SADISTS AND THE HOSTAGGES - 1972
BB 06 - 0 - Donald Mosby - THE CONFESSIONS OF A BLACK DON JUAN - 1972
BB 07 - 0 - Jack Waren - SPANKING SOCIETY, LTD - 1972
*****
BB 08 - 0 - Jack Waren - THE VARIETY SEEKERS - 1972
BB 09 - 0 - Dennis Carlson - VICTIMS OF THE VILLAGE WANTONS - 1972
No Ward Art - photo illustrated
*****
BB 11 - 0 - Larry Preston - WIFE SPANKER'S CLUB - 1972
BB 12 - 0 - Jack Warren - THE MASKED SPANKERS - 1972
No Ward Art - photo illustrated
*****
BB 14 - 0 - Jack Warren - CONQUEST OF LYDIA, THE - 1972
BB 15 - 0 - Raymond Rogers - THE SPANKING STEPMOTHER - 1972
BB 16 - 0 - Raymond Rogers - BONDAGE HEIRESS - 1972
BB 18 - 0 - Jonas Carlson - THE TORTURE CLUB - 1972
*****
BB 19 - 0 - Peter Parker - SPANK WITH ME, HENRY - 1972
BB 20 - 0 - Jonathan Meeker - SLAVES OF THE BITCH GODDESS - 1972
*****
BB 21 - 0 - Gary Fenger - SISTERS OF DOMINATION - 1972
BB 22 - 0 - James MacKenzie - THE FLAILING OF LAUREL - 1972
BB 23 - 1 - Gary Fenger - I, A MAN HATER - 1972
He is driven by sexual desire.
"I'll do anything for you."
"Get undressed and put these on."
"But those are for a woman."
"Of course they are, but I want you to wear them."

*****
BB 24 - 0 - James MacKenzie - CAPTIVES OF THE BLACK CHATEAU - 1972
*****
BB 25 - 0 - Gary Fisher - DUDE RANCH DOMINATRIX - 1972
*****
BB 26 - 1 - Ralph Wallace - SCHOOL OF OBEDIENCE - 1972
"What a pretty little lady you make , Master Charlie," she told him, laughing as his piteous eyes stared at her.
BB 27 - 1 - James MacKenzie - FETISH LOVER - 1972
He is punished by his wife for exposing himself to young girls.

BB 28 - 1 - Peter Parker - MADAME SLAVE DRIVER - 1972
This book was written by Peter Parker (Spiderman's secret identity). Do you think that he wrote this book before the radioactive spider bit him?
He is in love with a sadist.

BB 29 - 3 - Peter Parker - MY SON, MY SLAVE - 1972
The back cover of the book says::

Jonathan Hastings felt like Cinderella after his father's death. Left without a penny, he was at the mercy of his stepmother and her tall and voluptuous young daughter. For Cora and Bernice were determined to take whatever insidious pleasure they could at Jonathan's tortured expense.

The two cruel and sexually insatiable dominatrices force him to become their lowly slave. Made to wear a dog collar as a sign of subservience, he is tortured with whips and paddles of cruel efficiency. But even when he begs for mercy and freedom, they ignore his cries, sodomizing him and torturing him with diabolical instruments of punishment.

Even that is not enough for them. Forced to dress in a girdle, stockings and high heels, he is left alone on a busy street corner, the butt of jeers and ridicule from an angry crowd.

And when he is taken to the police station, he is thrown into a cell with five she-demons, tough, domineering female criminals who use his body for their own sordid and perverted sexual needs.

Cora bails him out, only to brand him. But by now he is hers, a man dressed in clinging rubber garments, a mere shadow of his former self—no longer a son but a slave, victim of degradation and a life-time of abuse.

The text of the sequence in which they force Jonathan out in public in female undergarments is of some interest. Note the appellation, 'commie pansy pinko'. It was no doubt a strong condemnation in the early 1970's:

When they hit the main street, Cora shoved her stepson out of the car onto the busy street.

He tried to hide against a store, keeping his head down as hot stinging tears of shame dripped down his cheeks.

"Freaking pervert that's what he is."

"Faggot, commie pansy pinko."

"They should lock him away."

He couldn't think straight and edged against the store window, shaking violently, his cheeks bright red as he tried to think of some way to escape. Jonathan was about to run when two burly policemen pushed their way forward. They looked at Jonathan and began to laugh.

"Come on, Mary, we're taking you down to the station house."

The two dragged him to their squad car.

"You on drugs, Mary?"

Jonathan whimpered, holding his head in his hands. At the station, more bystanders watched and laughed as the police dragged him up the steps.

*****
BB 30 - 1 - Gary Fenger - WHIPLASH - 1972
He enjoyed wearing woman's girdles until a peeping lady caught him at it. Catering to his fetish she ensnared him in her web of feminine domination.
*****
BB 31 - 1 - James MacKenzie - DE SADE STATE HOSPITAL - 1972
A writer poses as a mental patient to gain admission to the Wade State Hospital for the Mentally Insane. He becomes one of the doctor's victims and is made to suffer abuse and humiliation including being forced into women's women's clothing.
"You're a real little lady, Master Petie," one of the nurses said and then they forced him to don a black rubber maid's uniform, a wig and makeup.
BB 32 - 1 - Ralph Wallace - TAUGHT TO OBEY - 1972
A thief and 'lady killer' sought out a rich woman who turns the tables on him.

BB 33 - 1 - Peter Parker - DATELINE DOMINATION - 1973
A couple of victims of a dominatrix are cross-dressed.

BB 34 - 2 - Martin Wallace - THE HIGH HEELED HOUSEKEEPER - 1973
Fifteen year old Bud was well trained by his mother. After her sudden death, the new housekeeper carried on in his mother's tradition.

Notice the differences between the cover art and the same drawing inside the book. I doubt that Bill Ward drew both variations. More likely the publisher liked the drawing but thought it too extreme for the cover so he censored it. This seemed to happen fairly often, as you will see later in this review.

BB 35 - 1 - Gary Fenger - WOMEN OF THE WHIP - 1973
Eliot Dunlap's life changed the day he moved into a plush studio apartment. That night he awoke to the sound of seemingly ghostly and disembodied groans, whimpers of such searing pain that he wondered if it was his imagination playing tricks on him. But as he was to discover, it was not his imagination, but his upstairs neighbors. Amanda Butler and Candy Hawkins, who were responsible for the fiendish sounds of bondage, discipline and emasculating, pain. These two man-eating dominatrices soon enough lure him into their snare of deceit and sadistic punishment. Eliot is their hapless victim, led on by the promise of sexuality. And though he is able to consummate his lusts with all and every conceivable form of sexual activity, he is also treated to abuse and degradation the likes of which defies description.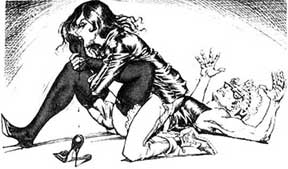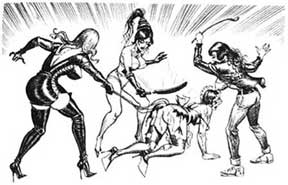 Based on PP fiction, there should be a glut of attractive male French maids. I wonder then why it is so difficult for me to get good help.

BB 36 - 1 - Gregory Duchamp - BROTHERS IN BONDAGE - 1973
She needed to prove to these two arrogant man that she was the boss, the one in command, the one would have to obey or suffer the consequences.

Should put them in the most demeaning of garments. Each brother were black mesh nylon stockings, high heels, panties and garter belt. Handcuffs and the balls and chain that they wore hopelessly immobilized them.

Going to her dresser, she procured two long stretch wigs she had often made similar use of to embarrass and debase many other former slaves.

She pulled over their heads two sausage curled Muppet wigs that made them blush with renewed embarrassment. "If you're mama and papa could see you boys now, wouldn't they have a good laugh," she giggled.

There were helpless to do anything but stand there, unable to even strike a blow to free themselves. Thus it was that she worked with impunity, putting bright red lipstick on both of their pouting mouse, further adding to their bizarre and demeaning experience by using turquoise blue eye shadow to tint their upper lids.

"How fetching, how absolutely sickeningly adorable," she started, pleased with humiliating effect of the feminine undergarments, the uncomfortable high heels and clinging garter belts and stockings, and now the heavy use of makeup all had at all combined to produce.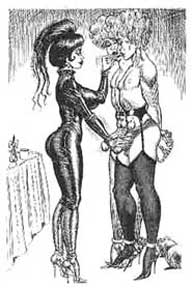 *****
BB 37 - 1 - Mike Santang - LEATHER LOVERS - 1973
BB 38 - 0 - Mike Santang - LEATHER BAR LADIES - 1973
BB 39 - 1 - James Mackenzie - ISLAND OF DOMINATION - 1973
*****
BB 40 - 0 - Victor du Maurier - SHADOW OF THE LASH - 1973
BB 41 - 0 - Viktor Dun - ECHOES OF BONDAGE - 1973
BB 42 - 1 - Ambrose Syr - CASTLE SADIST - 1973
Poor Boyd is a victim of the ruthless and dominating Nora.

BB 43 - 1 - Elwood Stokes - HOUSE ON BONDAGE LANE - 1973
Charmaine & Roxanne have a thing for sadosexual discipline.

BB 44 - 1 - Sam Kern - THE MASK OF DE SADE - 1973
Bert's young bride devises a regime of emasculating abuse.

*****
BB 102 - 0 - Stephen S. McLean - PROMISE OF PUNISHMENT - 1973
BB 103 - 1 - Paul Black - CRAVINGS OF THE FLESH - 1973
Andrew was lured and ensnared by his landlady.

BB 104 - 2 - Don Finn - A GIFT OF PAIN - 1973
This is a story of brotherly devotion way beyond the norm.

Had Warren's brother actually disappeared, or had he been the victim of foul play? Warren didn't know, and when he returned to Dumbarton, his family home, he met more than he bargained for. His brother's wife and two children were quick to make him feel ill at ease and unwanted. It was said that Dumbarton was cursed and Warren was warned that he would be the mansion's next victim. But Warren refused to be intimidated. He remained at Dumbarton, only to be drawn deeper and deeper into a web of terror such as he had never believed possible. For his sister-in-law, Enid Amberson, was a woman of rare and shocking cruelty, a dominating demigoddess whose tastes ran from the incestuous to the sadistic.
Tortured and sexually abused, Warren still refused to give up. But when he discovered the real truth behind the Dumbarton Curse, the solution to the mystery was even more horrifying than the pain and torment he had already been forced to endure!

BB 105 - 2 - Paul Black - JOURNEY INTO TORMANT - 1973
Little did Paul Hadley realize he would be moved to refer to Agatha Dodge's yacht as the ignominious S. S. DeSade . . ."
So begins an adventure that was destined to become a JOURNEY INTO TORMENT. Hired by Agatha's unscrupulous captain, Red Lansing, twenty-four-year-old Paul Hadley thought that a summer spent as deck hand would be the experience of a lifetime. Too late he realized that he was headed on a cruise into the very maelstrom of horror and depravity such as he had never known existed. Abetted by the captain, Spider Jones the ruthless cabin boy, and a massive black woman named Dolores Mercer, Agatha Dodge commenced to teach her new deck hand the meaning of respect and complete and blind obedience.


Paul was given the 'honor' of portraying young Agatha, dressed accordingly. Clothed in a grotesque burlesque of childish garb, a frilly party dress with bloomers beneath it, a fright wig set atop his head.

BB 106 - 2 - John G. Yard - A WOMAN TO BE FEARED - 1973
It was her expertise in karate and her expertise in dominating men which Devon Garth saw as the great challenge of his life, a challenge he would not allow to pass unaccepted. But the day he took up her dare was the day his life began to change. And the changes were not happy ones for Devon, nor were they ones which brought him peace and inner strength. Rather, it was Felicia's aim to break down his defenses, to teach him the very essence of her sadomasochistic creed. The latter was a philosophy of cunning deceit, raw and savage pain. Devon was caught up in her snare, trapped by her lusty and insatiable sexual passions. But he was also caught in a game of bondage and discipline. In a tale of psychological warfare among the sexes, nothing is left unspoken or unrevealed. The raw searing of passions of women driven to destroy their men, the worshipping needs of men fighting for their own survival, are mirrored in a story of unprecedented psychosexual intensity. Like The Story of 0, A WOMAN TO BE FEARED, takes the reader behind forbidden doors to unlock secrets of erotic perversion whose implications become a waking nightmare for Devon Garth, a hideous dream with a poisonous and brutal ending which will leave the reader gasping long after he has finished.

The second of these drawings, the 'Men are Scum' T-shirt one. I scanned from the original art that is in my collection.

| | |
| --- | --- |
| | |
BB 107 - 1 - John G. Yard - SCENT OF SADISM - 1973
*****
BB 108 - 0 - Paul Black - PAIN FOR THE LADY - 1973
BB 109 - 3 - Eric Thomas - MAKING OF PAMELA Part 1 - 1974
"In this, the first of a two-part series, Sir John Wentworth introduces us to the circumstances that led to one of the most bizarre stories ever told -- THE MAKING OF PAMELA.

In what is reputed to be a true account of his life, Sir John exposes the harsh cruelties of the English public school system, of which he was perhaps its most unfortunate victim, and the bizarre, pain-laden days of his youth.

An orphan, Sir John possessed a fortune through inheritance, but it did him little good as he was shunted from one academy to the next, subjected to torment and finally taught the pleasure of total sexual abandon.

Finally guided into the game of transvestism, Sir John had already shown an inclination for homosexual pleasures; he and his boyhood chum, the Duke of Coventry, develop a fondness for both the rod and each other; caught in a sexual dalliance by their senior, they are forced into further homosexual relations, finally involving the headmaster of Redhill, the school which they attend. And finally there are Sir John's accounts of his early experiences in cross-dressing, and the sexual escapades that leads to. Is he the seducer or the seduced? It is difficult to distinguish absolute truth in Sir John's account -- but on that score, the book will speak for itself.

First a hint of eye shadow, a little mascara, a dusting of powder, finally she lined in a pair of thin eyebrows and coated my lips with bright red paint. Miss Crompton then handed me a pair of white silk panties, "Try these for size," she said.
I pulled them on, blushing as I did so. The edges of the legs, which came high up on my thighs, were trimmed with frothy lace.
She helped me to put on a simple white silk shirt-waister with long, full sleeves. The cuffs were also trimmed with a lot of white lace. The collar was high and lightly boned so that it stood up all around my neck. The lace with which it was trimmed flowed in a cascade down the front to the waist.
"Black velvet shorts for days and white satin for evenings, I believe?" she asked Helen.
"Yes. No change at all."
Miss Crompton had to help me on with the black velvet shorts, which fitted skin-tight. They had an elastic panel at the back, which helped, but no belt or buttons to hold them up. They were so exceedingly short that the frills of my panties showed at the legs. To my surprise there were no fly-buttons in front either, but three large black shiny buttons down each side.
There were no pockets in the shorts either, and I did not know what to do with my hands
A pair of short white ankle-socks followed, and then a pair of shiny leather shoes. These caused a problem, because the heels were at least three inches high, and when I stood up I staggered forward.
"You'll soon get used to them, darling," laughed Helen, but I was not so sure. I felt that if I took a wrong step I should most likely break my ankle.
They gave me a large, round white straw hat with a wide brim and a blue ribbon around it, which fell down one side.
"There!" exclaimed Helen, "Isn't that a whole lot better?"
I smiled, weakly. Words were beyond me. I felt sure that I looked as big a fool as I felt. They took me to a tall mirror. I stood in front of that mirror in amazement. Previously I had seen myself in the remnants of my Redhill uniform, and had felt that I looked like a juvenile tramp. Now I was transformed. Amazingly, I did not look ridiculous. Certainly my appearance was unusual, but with my hair done and my face discreetly made up and my nails manicured, and in these beautifully made and designed clothes, I looked like something halfway between an innocent young boy and a most attractive and provocative young girl. The shorts fitted skin-tight, and from my appearance no one could have been sure what my sex was.
"Do you like the uniform, darling?" asked Helen.
"Will the others look like this," I asked, cautiously.
"Only one other, who is also starting now. After the first month, you wear another uniform," said Helen.
And so he did.

BB 110 - 2 - Eric Thomas - PASSING OF PAMELA Part 2 - 1974
Bandied about by guardians who did not guard him at all, Sir John slid deeper and deeper into depravity and transvestism.
Finally transformed into Pamela Minter, Sir John becomes in all ways a woman

BB 111 - 1 - Paul Black - MADAME DE SADE - 1974
Harry was a gumshoe who posed as a student to free a client's son from 'The Tabernacle'.
Here the cover is not censored but improved by the red bows on her garters and the slight turn of her face.

BB 112 - 0 - Eric Thomas - ANYTHING SHE WANTS - 1974
BB 113 - 0 - Eric Thomas - LADY BRENDA'S GAME - 1974
BB 114 - 1 - Paul Black - THE WIDOWER'S TORMENT - 1974
The stepmother's games were violent and perverse - destroying their manhood.