Carole Jean's
Downloadable Stories of
THE SYLVAN SCHOOL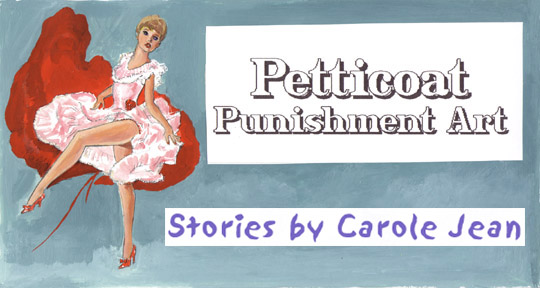 New
JEKEIL OF THE HOOD
I have just finished and made available for download a new Sylvan School story. It is available only from my web page. Jekeil is a young man trying to impress the gang. He is caught assaulting a girl and a judge gives him an unusual sentence.
Muffie took a threatening step towards him and he quivered in fear at her fierce expression. Jekeil stood still and watched apprehensively as he allowed Peggy to put the bra on him and adjust its straps.
'Jekeil if the Hood' is Item #305.
******
This page lists my books which include stories of the students of the Sylvan School for Boys. On the previous page I have included a list of all of the major characters. As you can see I have several more stories to write.
* * * * *
'NICK AND MIKE
THE BEAUTIFIED BULLIES'

I worked on 'BEAUTIFIED BULLIES' for nearly two years. It has 200 original drawings by Juan Sole 27 of them in color. It tells the story of Nick and Mike who have bullied their schoolmates and abused their mother. At the end it introduces the Sylvan School.

Here is an excerpt from Volume One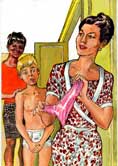 She took him into her bedroom. While he stood trembling, she went to her bureau and produced a pair of pink panties edged with lace.
* * *
Here is an excerpt from Volume Two
"I don't want to wear any makeup." Mike would just kill him.

"Very well, dear. Are you ready to go out?"

Suddenly he realized what he'd just rejected. Perhaps, just perhaps, with makeup, people might think he was a real girl. At least there was a chance. As he was right now, everyone would recognize him as a boy. After that, his life would never again be worth living.
* * *
Here is an excerpt from Volume Three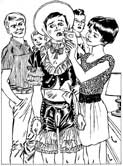 "Come here Prissy."

Mike walked to her.

"Let me fix your lips, sissy." She took a lipstick from her purse. "This isn't exactly your color, Mr. Honeybunch, but you need a touch-up after taking your bottle."

Mike stood with his fists clenched as she painted his lips.
* * *
Here is an excerpt from Volume Four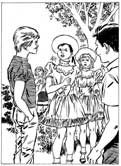 "Hi, girls." said Ben scornfully.

"Aren't Nick and Mike cute in their dresses," Jerry said.

"Don't call them by those names," Ben said, "Dawn told me that they are Nicole and Michele now."

"Go away and leave us alone," Mike said angrily.
BUY 'NICK AND MIKE
THE BEAUTIFIED BULLIES' HERE AS ITEMS 300 a, b, c & d
* * *
BJ redrew several of Juan's drawings for 'The Beautified Bullies'. I have collected them here along with the original drawings and excerpts from the text which describe the scenes. There are two sets of about 65 drawings each. Here is a sample from each set.
SET ONE:
Principally from 'The Beautified Bullies' Volumes 1 and 2
"Your niece," she said, "looks a lot like the boy you brought in when you were shopping for her."

"Does she?" asked Miss Baldwin, "I rather imagine she does, now that you mention it. Nicole, do you think you look more like a boy or a girl?"

"I don't know, Auntie," he said.

The clerk grinned.
* * *
SET TWO:
Principally from 'The Beautified Bullies' Volumes 3 and 4
Miss Baldwin led the sissified boy, to her bedroom. There, she sat him at her dressing table. Hopelessly, he allowed her to paint his lips with pale but lustrous pink lipstick.
* * *
'Norm, the Town Boy'

'Norm, the Town Boy' has about 60 original drawings by Juan Sole which tell the story of Norm's involuntary introduction to wearing girls' clothes.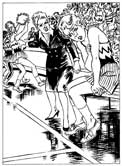 Collapsing on a bench, he pulled down his skirt as far as it would go, crossed his arms over his horrible breasts and turned his painted face away from his tormentors. He felt as if he was about to cry.

Miss Davies was there at once, "Go back and cheer."

'NORM, THE TOWN BOY' IS ITEM 302.
* * * * *
'Van, the Bride'
'Van the Bride' has over forty original drawings by Juan Sole which illustrate how Van's life is changed by becoming a Sylvan student.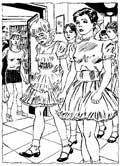 Van felt a hand in his. They went downstairs. As they passed the principal's office, Van heard a gasp and saw Cynthia at the door. He lowered his head blushing furiously not daring to look up. Perhaps she had not recognized him, but she had seen the uniform. Even if she thought this was a parade of real, if shorthaired, girls, she must still wonder what they were doing at a boy's school.
* * * * *
Bob, the Panty Thief
In this tale, Bob's girlfriend agrees to go to the prom with another boy. Bob's attempt to get even with her is a disastrous failure. It is illustrated with over forty original drawings by Juan Sole.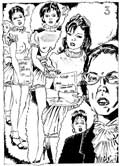 "Well, as you can see, our first year students like Eve make important strides in their feminine appearance and deportment. But he is nowhere near his best yet. Over the full three-year program, our sissies become ever more feminine. We give them in-depth training in makeup, clothing, and movement. By the second year, their hair is long enough to style, so they are fully trained in hair care. During their third year, they are taught the subtleties of being feminine in every way from the finer arts of speaking as a girl and discreetly teasing men thru their posture and poses to the proper ways to kiss real boys and other sissies. By the time they graduate, they have long, pretty hair they can spend countless hours styling. They are as expert at makeup as an experienced beautician. Plus, they can sew, dance, cook, and clean and look more graceful and feminine than almost any real girl while doing those things."
'BOB, THE PANTY THIEF' IS ITEM 304.