The Art of Petticoat Punishment by Carole Jean
Part 62 - Fantasia
The Society for the Study of Domestic Relations was founded in 1956 and issued its first 'Bulletin' in December. In July, 1957, the name 'Fantasia' was adopted for their publication. Fantasia #1 reprinted some of the contents of the Societies fist half dozen 'Bulletins'
Lucian Press, Los Angeles, went on to publish 20 issues of Fantasia and two correspondence issues.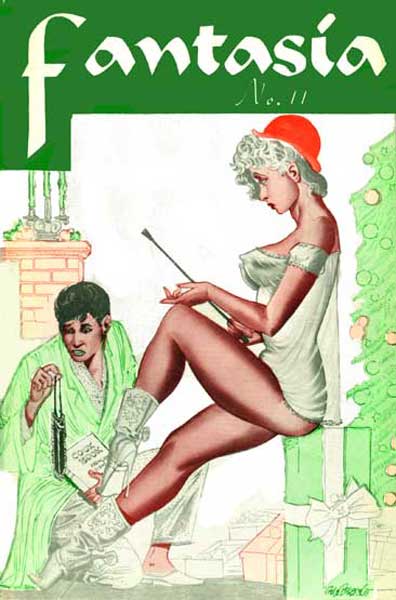 They had the good sense to hire Gene Bilbrew as their principal artist and to devote part of their publication to Petticoat Punishment. These books are now quite rare and I feel fortunate to have acquired all 22 of them.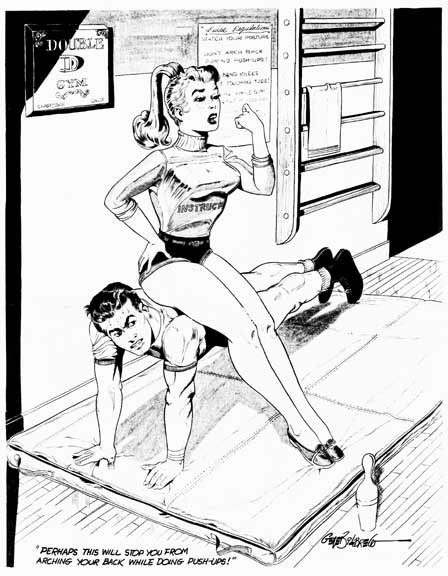 I have three items available for sale:
Download #77 has stories and art including all 22 covers
Some of the illustrated stories are TRAINING THE YOUNG, DOMESTIC DISCIPLINE' & NOVEL PUNISHMENT all short petticoat punishment letters, and MAID TO PLEASE a longer story of a man forced to become the maid to two women
Download #78 has stories and photos including the 'Pretty Maid Contest'
Some of the photos accompany Petticoat Punishment' letters and others TWENTY EIGHTY-TWO
A Vision of Men's Future State. There are also many photos from the Pretty Maid Contest.
Readers, readers, here and there! What does the well-dressed maid wear? A number of readers have suggested that greater opportunities should be provided for those who are not literarily talented to participate in Fantasia in other ways.

We have duly wracked our collective brain and come up with the idea of a Pretty Maid Contest. Since many readers apparently utilize the penalty of a period served as the household maid as part of their domestic discipline codes, lets see what the well-dressed maid looks like.

#79 has Gene Bilbrew's 'Campus Capers' the inspiration for Nan Gilbert's 'The Panty Raiders'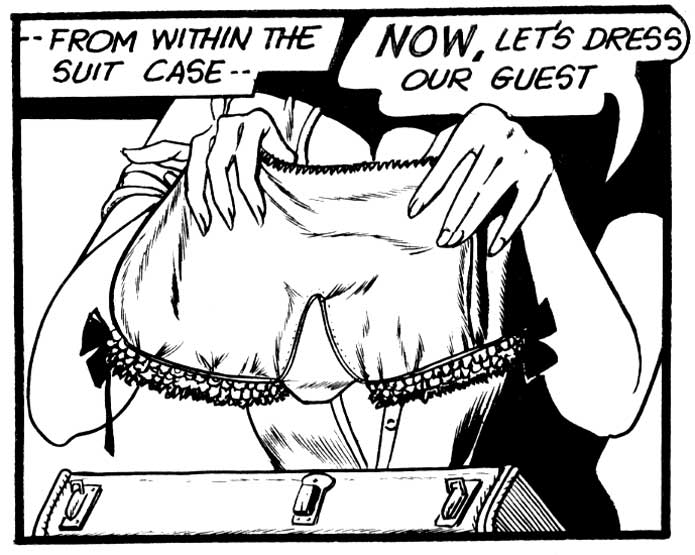 Fantasia included two letters from 'Nancy' (Nan Gilbert), the first in issue #5 and the second in Correspondence Issue #1.

Dear Editor:
I received my first issue of Fantasia the other day and find it quite interesting. The letters regarding Petticoat Punishment, etc. really hit home, and I am sure your readers would be interested in some of my own experiences.
Some time ago I was quite friendly with two girls, in their twenties, who were cousins and shared an apartment in one of our larger cities. Through a wager, I agreed to do whatever they wished for two days, and was told to come to their apartment on a Saturday morning. I arrived promptly at 9 o'clock and was greeted by the girls who were just finishing breakfast.
They seemed highly amused and reminded me of my promise. I laughingly repeated it, whereupon they took me into a bedroom where a complete outfit of girls' clothing was laid out. I gasped when I saw the pink bra, panties, etc., but under their urging, I agreed to put them on. They left the room while I stripped and put on the bra, garter belt and panties, and then returned to supervise as I pulled on the long nylons, a pair of medium heeled white pumps, a pink nylon slip and a pink cotton maid's morning uniform. It was amazing how a feeling of humiliation and submission came over me as I was being attired in this feminine garb, and when my mistresses announced that my name was `Nancy' and that I was to be their maid for the week-end I meekly bowed my head and asked what they wished me to do.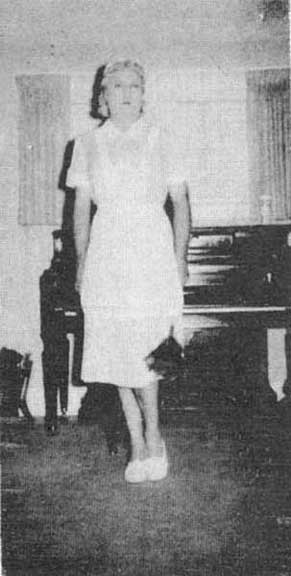 I cleaned house, made beds, washed dishes and their clothes and did all sorts of other girl's work. I f I was slow or did not perform a task properly, I was spanked on the spot, bending over a chair and lifting my dresses so that my only protection was my thin nylon panties, and I assure you they were not much help.
To further amuse themselves, after luncheon my two mistresses took turns seeing who could tie me up most severely, leaving me each time for perhaps half an hour while they made further plans for their maid and poked fun at me.
Later that afternoon, I was made to dress in a dark green nylon afternoon uniform with organdy collar and cuffs and a matching apron, with black high heeled pumps. I quailed as I realized that I was to serve at a cocktail party.
The party was restricted to eight of their girl friends. My appearance created much amusement among the girls. I almost died of shame, which shows how effective this punishment can be.
Very truly yours, `Nancy' (N.Y.)


Dear Editor:
I was amused by the letter from Mr. G.R. of Michigan in which this misguided male casts doubt on Mrs. M.G. of Calif. and her letters describing the treatment she gives her husband. Weil, Mr. G.R., if the Editor prints this letter and the pictures that accompany it, possibly you will change your mind. This treatment is not cruelty, but beneficial discipline—and I do mean beneficial.
At the direction of my wife and mistress, I would like to describe how my wife first put me in petticoats. First, I would like to say that while there is a feeling of shame and humiliation in connection with this treatment, I really believe that on the whole it has been beneficial to our personal relations and has not affected my performance as a wage earner in the slightest. In fact, I would say I am an even more aggressive sales executive than before.
Some few years ago, my wife and I had taken a secluded cottage at a lake for three weeks in the summer for our vacation, and it seemed only natural that two of her friends should stop in the second afternoon we were there. I had my wife prepare cocktails, and then while she was fixing dinner, I went down to the lake for a swim. As you can see, I was rather demanding.
When I returned, I went into the bathroom, removed my trunks, and then in my robe went to our bedroom to dress. I was quite surprised to find none of my clothes; then I saw laid out on the bed a corset, bra, nylons, and panties—in fact, a complete set of lingerie.
"Where are my things," I called, at which my wife and her friends came into the room laughing.
"I think you should put those on," she said, pointing to the feminine apparel on the bed.
"I certainly won't," I stormed. "What do you think this is, a...."
I got no further, for the three of them seized me. I am no light weight; in fact I go about 175 lbs. and keep myself in good shape, but I was no match for those three women. My arms were twisted behind me, and my ankles tied so that I could not kick; and even though I struggled, they managed to get the corset on me. As the laces tightened, I ceased to struggle. Meekly I submitted as the bra, panties, nylons and slip were put on me. White medium heeled pumps followed, and then a rose short sleeved nylon dress. A ruffled white half apron was next. Then, heavens above, they produced a cute blonde girl's wig which was placed on my head. I rose and stood before them, realizing that I was dressed as a maid, and fearful at what was in store for me.
"Now, my dear," said my wife, "I have stood your domineering bad manners long enough. From now on, you will serve me, and you shall be dressed as a housemaid in keeping with your duties. Your name will be "Nancy," and if you do not obey me promptly or properly, you shall be spanked or other-wise punished. Helen and Mary are going to spend the next three weeks here as my guests, and you are going to be the maid. Don't speak unless you are spoken to, and curtsey when you answer us. Now you go mix us another cocktail and then get started fixing the dinner."
A wave of shame, humiliation and meek submission overwhelmed me as I stood before the three women in my dresses and realized my predicament. She was right, and I richly deserved my punishment. Meekly I curtsied and minced away on my heels, my face burning as their laughter rang in my ears.
So, I became their maid, and for three weeks I lived in dresses, doing all the house work, cleaning, washing, cooking, etc. They provided me with an ample feminine wardrobe, and I was allowed to wear cotton blouses and skirts in the warm summer afternoons, but a white apron was always part of my attire to remind me of my position.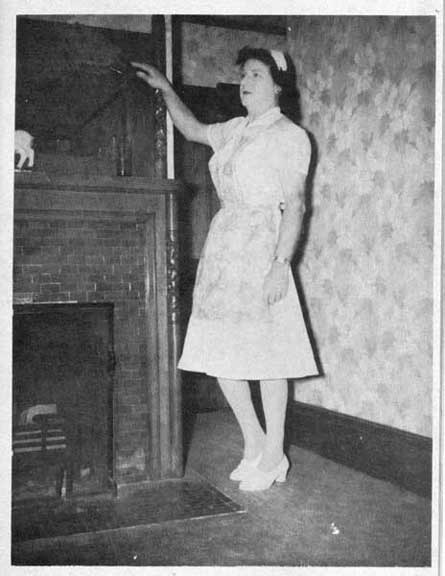 The first time I displeased my mistress, she did not hesitate an instant, but took me over her lap, lifted my skirts, and spanked my panties until I begged for mercy. I was so overwhelmed with shame at being so treated before her two friends that I actually cried.
The next evening, I had the misfortune to spill a cocktail on the dress of one of her friends, and my mistress ordered me to submit to punishment at her girl friend's hands. Mary ordered me to bring her some clothesline, and how I quailed as she pulled my wrists behind me and tied them with the rope. I was crimson with shame as she led me to the middle of the room, threw the end of the rope over one of the roof beams in the rustic living room, and pulled my arms up until I was bent way over and standing on tiptoe. Tying my ankles, she pinned up my skirt, and paddled me with a hairbrush to the encouragement of the others. Fifty strokes was my punishment, and I am sure that the shame of my predicament hurt as much as my bottom.
For three weeks I served as a maid to my three mistresses, who took great delight in training me to be proficient in my duties. I was taught to wash and iron, sew, embroider, and the pro-per way to clean, dust and do all the other housekeeping duties which I was informed any well-trained maid knew. Cooking was also included in my schooling, and at the end of the three weeks, my wife was complimented by her friends on the progress I had made.
"Nancy will certainly be a great help at home," they would say. "You must let us borrow your maid occasionally."
I would blush at these remarks, but my wife would laugh and say, "I don't see why not; after all you both helped to train Nancy, and I think it only fair that she help you out once in a while."
When it was time to return home, I was given my male clothing and an extra suitcase in which to pack my feminine attire. After our return home, we resumed our usual routine, and my wife did not mention Nancy for several weeks, possibly because I was most attentive, but Nancy's clothes hung in a closet in the attic as a reminder to me.
Yours,
"Nancy" (N.Y.)