TO BUY NUTRIX & MUTRIX BOOKS GO HERE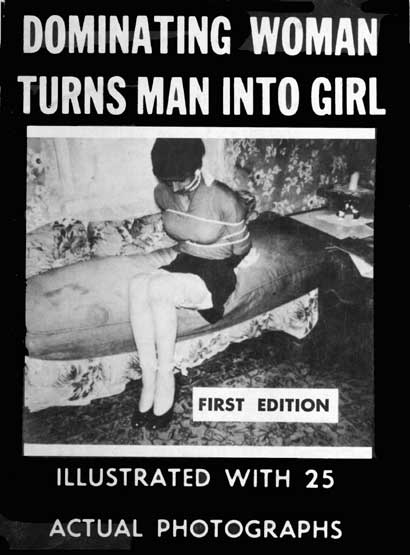 ITEM 101 - Dominating Woman Turns Man into Girl
Published by Nutrix in1959
Illustrated with 25 actual photographs

"We thought you were that man, because you looked like him. We traced him to this city and captured you by mistake. But just as he took innocent girls and changed their lives, we are going to take an innocent man and change his life. Later we are going to settle with him. Now we are going to transform you into a girl."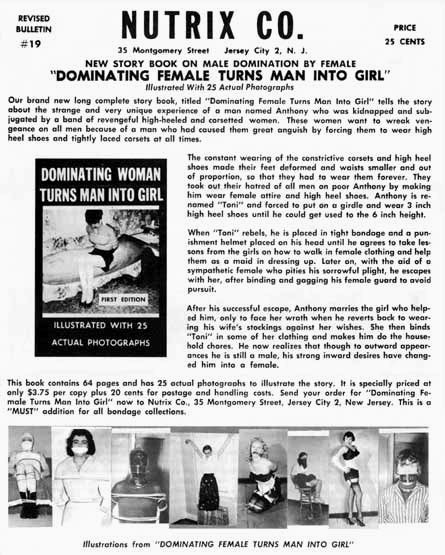 ********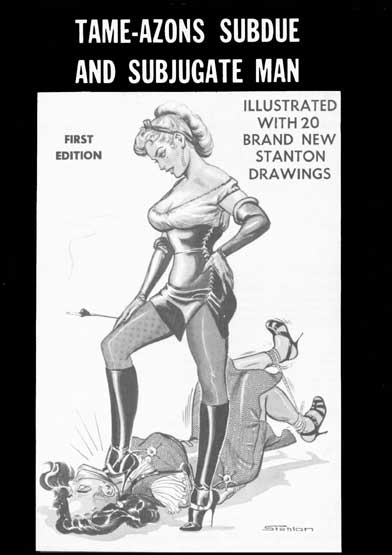 ITEM 123 - Tame-Azons Subdue and Subjugate Man
Published by Nutrix in 1960
Illustrated with 20 Eric Stanton drawings
Stanton's illustrations for this story are great.

Queen Portia, a tall buxom blonde, stared only a few seconds at the beaten and battered captive of Potentia and screamed, "You should know better than to bring a weak and puny man into my presence without fitting female clothes on his inferior body! Take those torn clothes away from him and place feminine attire on him to denote his lowly present stature."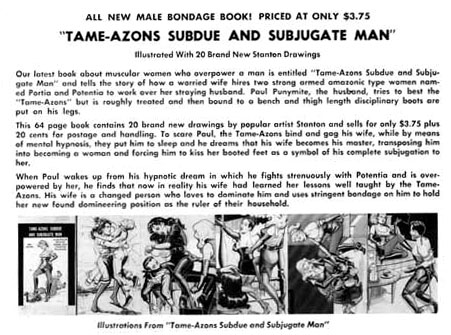 ********
ITEM 102 - Men Tamed to Submission by Tame-Azons
Published by Nutrix in 1960
Illustrated with 20 Eric Stanton drawings
Stanton's illustrations for this story are great.

Over Dan's tightly laced corset, Portia and Potentia placed a short black French maid's cap which made his appearance look incongruous. In fact, Portia and Potentia could barely keep from laughing out loud in their victim's face because he looked so masculine instead of effeminate in the maid's costume. Both girls took great pains to make Dan look more feminine, making him slip on a gay pink colored nylon tricot half-slip, with ruffled trim along the edges to match his ruffled maid's cap. Then, with a pair of tweezers, they began to pluck out some of the hairs on Dan's bushy eyebrows in order to make him look less masculine.

********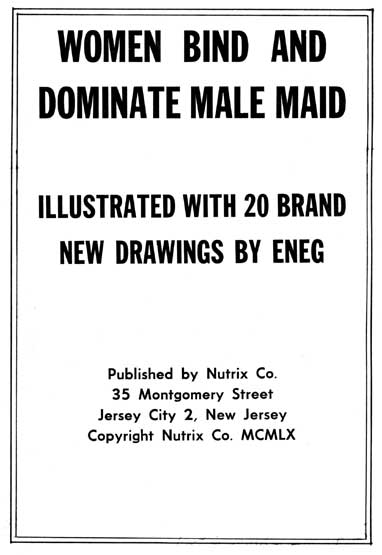 Sorry but I don't have the cover to this book. Can you help me find it?
ITEM 103 - Women Bind and Dominate Male Maid
Published by Nutrix in 1960
Illustrated with 20 drawings by Eneg (Gene Bilbrew)
What can I say – Bilbrew is my favorite artist.

The new maid of course was to be Johnny himself, who was to wear the maid's uniform until it came time for him to participate in the match. When the proposal for Johnny to change clothes and put on the maid's clothes was put to him, Johnny objected to the plan for he had never worn female attire before.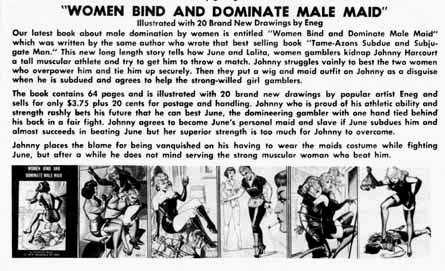 ********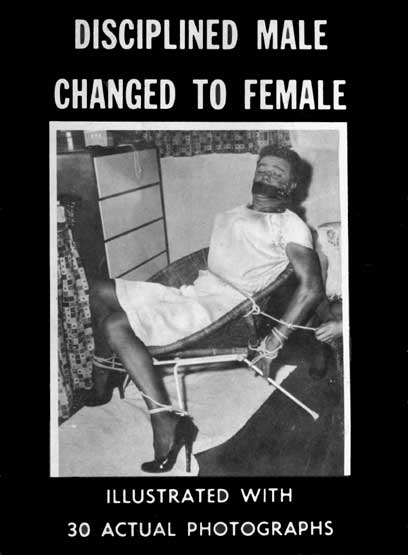 ITEM 104 - Disciplined Male Changed to Female
Published by Nutrix in 1960
Illustrated with 30 Actual Photographs

As I pulled down the dress to shake out some of the wrinkles caused by sitting down, I began to feel that perhaps I was doing the wrong thing by dressing up in female attire. I now began to imagine how my friends at the ball would take my sudden change from male to female. A terrific ribbing would be in store for me, once it became common knowledge that I had cavorted in public wearing feminine clothes.

********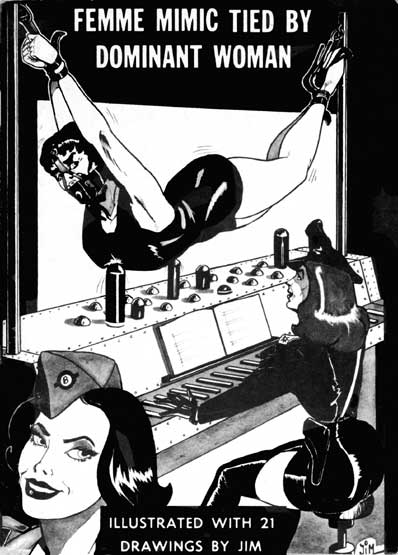 ITEM 105 - Female Mimic Tied by Dominant Woman
Published by Nutrix in 1960
Illustrated with 21 drawings by Jim

Jim is one of Klaw's great artists. I had this book once but my mother threw it out. I searched for a replacement for more than thirty years. Here is some sample text:
The editor wanted a story from the man's point of view and he selected me for the story assignment because I had been in the Army and could play several musical instruments, having also previously played with an amateur band in college. At first I demurred at the thought of putting on feminine apparel to get this inside story but there seemed to be no other way to do this. A big bonus and the promise of a byline on the story persuaded me to accept this assignment.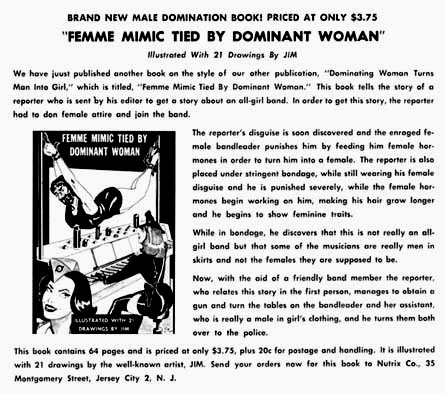 The following artist and writer search was on the inside cover of this book. Klaw evidently needed to increase his product line.
ATTENTION
WRITERS ARTISTS PHOTOGRAPHERS
If you think that you have an interesting subject that would appeal to our readers--then win yourself a cash prize
We will publish the most interesting and unusual drawings, manuscripts or photographs submitted and for each that is published we will give a cash reward to the contributor. The rules are simple.
1. All photos must be glossy prints. Drawings must be clear; manuscripts must be typewritten.
2. Photo must be accompanied with a written and signed release by the model stating that we are free to publish it. Names will not be used.
3. When submitting material, PRINT your name and address plainly on it and send it separate from orders to Nutrix Co.
4. ALL photos become the property of Nutrix Co., if used, and none can be returned unless you include return postage and self-addressed envelope.
Submit your drawings, stories, photos to:
NUTRIX CO., 35 Montgomery Street, Jersey City 2, New Jersey.

********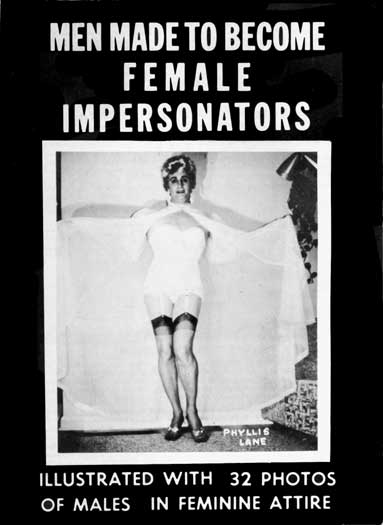 ITEM 106 - Men Made to Become Female Impersonators
Published by Nutrix in 1961
Illustrated with 32 photos of males in feminine attire
For years this book was one of my favorites.
"Outside with him," commanded Ruby, pointing to the back yard. Stan, beginning to panic, begged for mercy. Out he went, however, forced by the determined 'girls'. He was fearful of appearing in public dressed in female attire, but as it turned out, no one caused any trouble. Throughout the afternoon he was led in and out for several changes of costume and more pictures.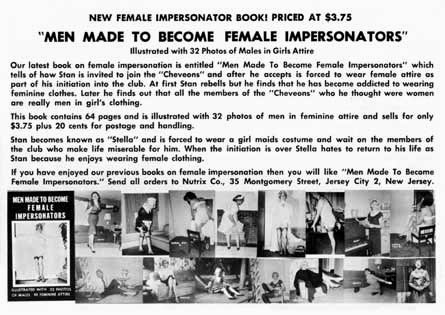 ********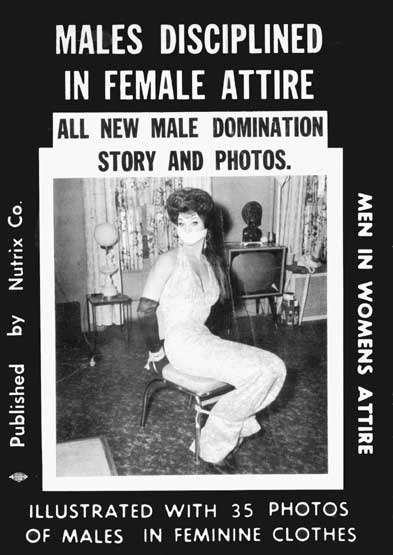 ITEM 124 - Males Disciplined in Female Attire
Published by Nutrix in 1962
Illustrated with 35 photos
Buddy placed a cape on me. When she had it buttoned down the front, my bound arms were hidden but the shiny satin skirt still made an attention-getting sight. Then she escorted me out the front door to the car and helped me in. Off we went and shortly we were in a downtown parking lot. There she helped me out and taking a firm hold on my helpless arm, she walked me off at a brisk rate. What with my tiny high-heeled steps I had to move quite fast to keep up with her.
********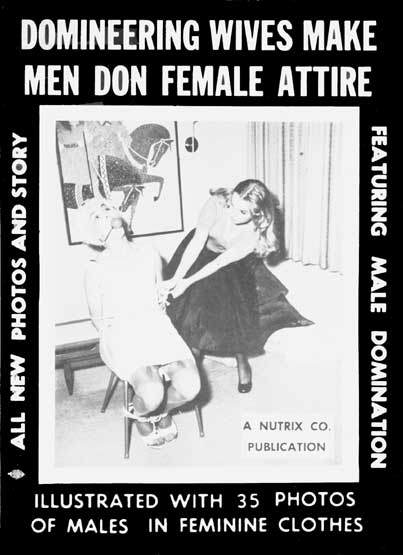 ITEM 107 - Domineering Wives Make Men Don Female Attire
Published by Nutrix in 1963
Illustrated with 35 photos
This has some great photos.
Sadia took no chances of the two irate men jumping her when she was making them change dresses and held her gun on them to make sure that they did not try to catch her off guard. She made them sit on a bench while she tied their ankles to the legs of the wooden bench. After each man, still dressed up in wig, stockings and female shoes, was safely bound to each other, Sadia put down the gun to gag them. Each was trying to out-yell the other in pleading with Sadia to free them from this most humiliating plight.
The following message followed the story - but I have found no other volume.
(If you would like to have another book published on the further dominating exploits of Sadia and Christine, write to the Editor, Nutrix Co., and request same. If sufficient requests come in for another volume, we will be happy to print one up).

********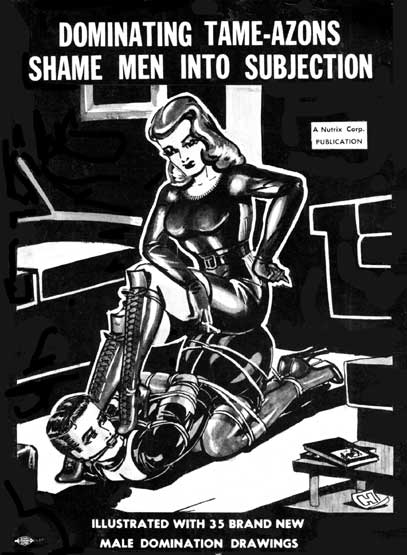 ITEM 108 - Dominating Tame-Azons Shape Men into Subjection
Published by Nurtix in 1964
Illustrated with 35 drawings
I don't know the artist, but he is great!
Suiting the action to Potentials words, Portia placed on Gerald's body a long rubber girdle as well as black stockings and stilt high heeled shoes on her unwilling victim's feet. Gerald made a feeble effort to avoid being dressed up in this female attire, but he meekly stopped resisting when Potenta gave him a few slaps to enforce her commands.

********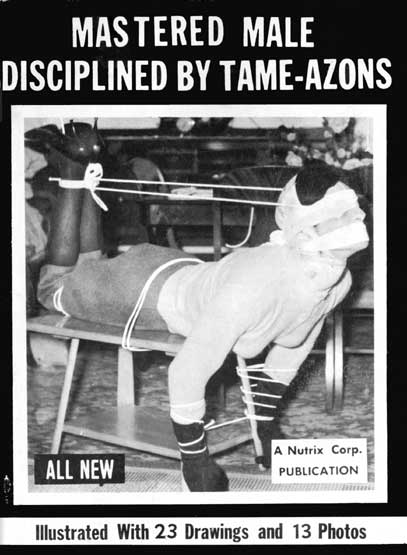 ITEM 109 - Mastered Male Disciplined by Tame-Azons
Published by Nutrix in 1964
Illustrated with 23 drawings and 13 photos
More great art by the unknown (by me) artist of ITEM 108.
The feminine lingerie and braselette also were part of the Tame-Azon procedure to subjugate and subdue male captives. Potentia went to work on Barney, changing his bondage from time to time, as well as his costume, in order to make his spirit of rebellion die out, so that he would be willing to obey any command, no matter how distasteful to him, without question.

********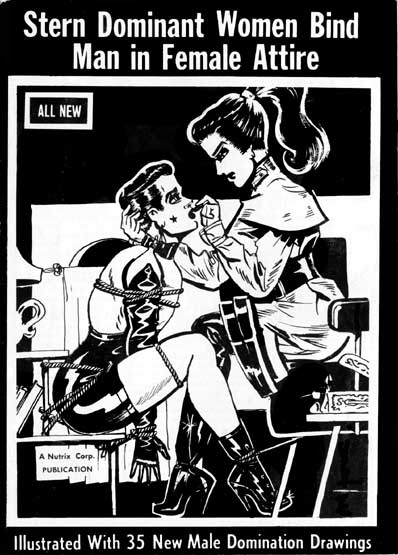 ITEM 110 - Stern Dominant Women Bind Man in Feminine Attire
Published by Nutrix in1964
Illustrated with 35 drawings
More great art by the unknown (by me) artist of ITEM 108.

It was a cruel posture, but I thrilled to the knowledge that every bond on my figure was tightly drawn. I almost crushed the false rubber cushions in my bra, as I pressed into the padding. The Countess led me to punishment room, where Wilma was waiting for me. It was hard to walk or to see, bound as I was. But I knew that we stopped close to a bench.

********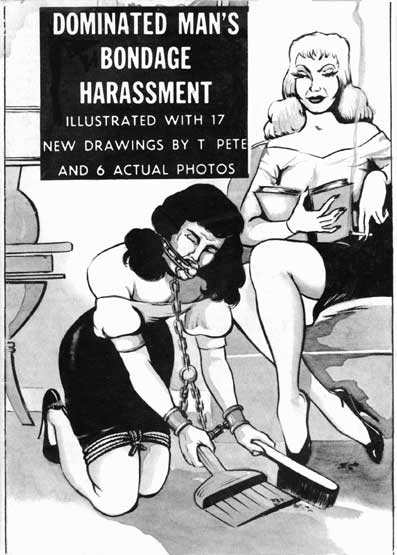 ITEM 111 - Dominated Man's Bondage Harassment
Published by Nutrix in 1965
Illustrated with 17 new drawings by T Pete and 6 actual photos
A sequel to Dominating Woman Turns Man into Girl
Here is some sample text of this excellent story:
Tears of shame trickled down my cheeks as I realized what a mess I had made of my life, all because I had been so thoughtless and inconsiderate of my wife and children. I began to hate myself for allowing my passion for wearing female attire to place me in such an embarrassing and dreadful plight.

********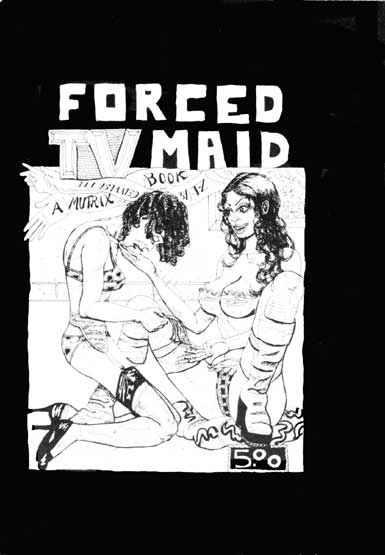 ITEM 112 - Forced TV Maid
Published by Mutrix in the 1960's
illustrated with 8 J-Z drawings
More than usual sexual content for this publisher.
"Now you will have to dress properly," he was told. Mistress Stryker pointed to the pile of womanly clothing she had brought with her.
"But I'm not interested in that," he weakly protested. "I only came for a little harmless fun," he whined.
"There is no use in crying like a baby. You're going to be our little serving wench, and you had better get used to the idea, or I'll take my impatience out on your bottom," she said.
The book ends with this sales pitch. However I don't think that the second volume was ever published.
Be sure to get book two of this world famous series, where Francine is taught to submit to humiliations too horrible to describe. He is exposed in public, and he is surgically turned into a 'real girl'.
AT YOUR FAVOURITE BOOKSELLER SOON!

********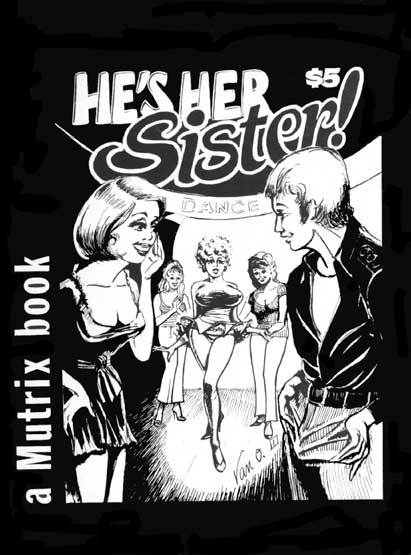 ITEM 113 - HE'S HER SISTER
Published by Mutrix in the 1960's
Illustrated with 6 drawings by Van O.
I quite like this story.
They found a short-skirted white tennis dress almost identical with the one Joan was wearing that I could get into, and I was almost ready for this prank of substitution before I had agreed to do it. The doctor had taken Joan off to the hospital to have her ankle X-rayed, and the remaining girls went to work completing my disguise.

********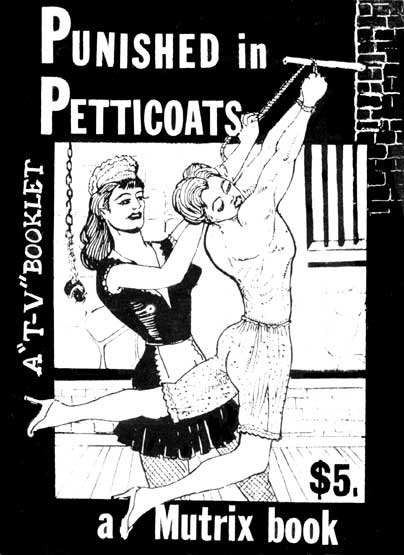 ITEM 114 - PUNISHED IN PETTICOATS by Nan Gilbert
Published by Mutrix in the 1960's
Illustrated with 10 drawings
This is a typical Nan Gilbert story with cute illustrations.
She turned to Nancy, who was giggling uncontrollably, "Whatever are you giggling about, Miss Nancy?"
Pointing her finger at Gerald in a derisive gesture, Nancy said, "You're calling him 'Master Gerald' when he's wearing girls' clothes! It's just too cute for words!"
"Josie, please make her stop teasing me. Please!"

This time the following promise was kept and the Leslie books were printed by Mutrix. For more information and the full set of 'Leslie' books please check my downloads.
Watch for more thrilling Nan Gilbert classics under the Matrix, Incorporated, aegis. They will soon be available at your favorite booksellers all through the nation. - Ed.
********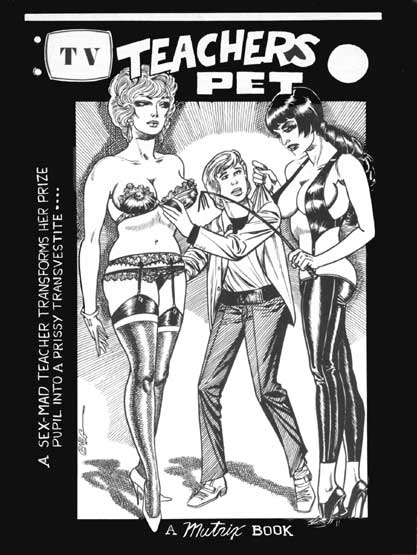 ITEM 115 - T V TEACHER'S PET
Published by Mutrix in the 1960's
Illustrated with 9 drawings by Gene Bilbrew
Bilbrew is now in Mutrix!

With every movement of his arms, the snug sleeves of his uniform dress made the bristled pads of his phony breasts scrape across his chest, scratching his vestigial male nipples and keeping him continually aware of his artificial femininity. The dangling earrings touching his cheeks and neck with the movements of his head kept him conscious of this part of his impersonation. And the very tight waist-cinch gave him an hour-glass figure, of which he was reminded at every breath.

********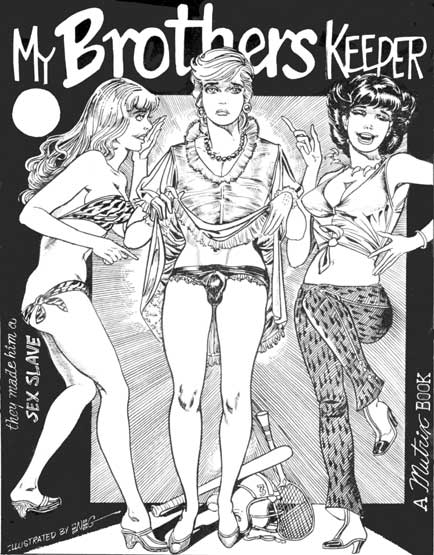 ITEM 116 - MY BROTHER'S KEEPER
Published by Mutrix in the 1960's
Illustrated with 9 drawings by Gene Bilbrew
Excellent Bilbrew –
On one of the chairs was the set of clothes the girls had left for me to wear. I took one look and my heart sank right down through my stomach. They were all obviously girl's clothes.
********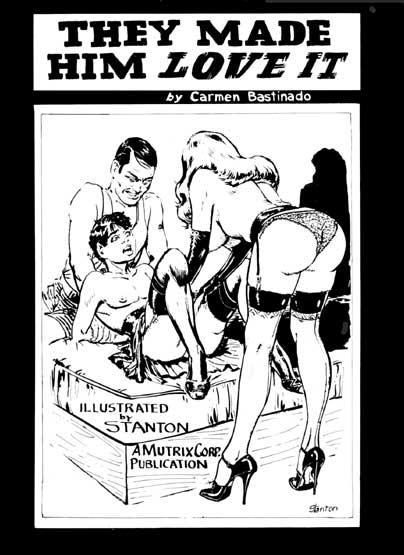 ITEM 117 - THEY MADE HIM LOVE IT
Published by Mutrix in the 1960's
illustrated with 4 drawings by Eric Stanton
Somewhat more sex than typical for these books
A small-sized brassiere was installed on his chest over his pleas and objections. But the empty cups failed to give him the proper feminizing effect. Since Tom and Grace wanted to keep him painfully and perpetually aware of this aspect of his forced transvestism, as a painful reminder of his condition, a handleless military hairbrush was inserted into each cup.
********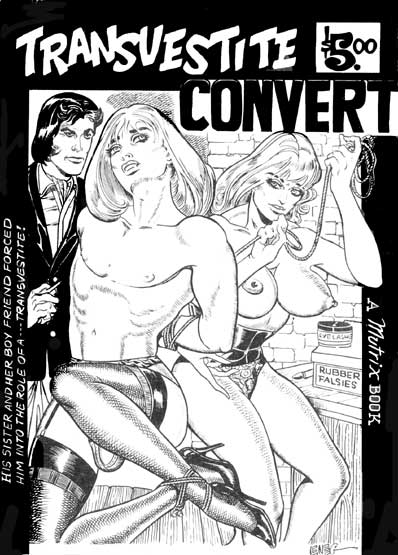 ITEM 118 - TV Convert
Published by Mutrix in the 1960's
Illustrated by 8 drawings by Gene Bilbrew
In the morning both Lynn and her lover jeered at my helplessness and discussed ways to create my transvestite humiliation. With my legs still tied astride the stool, and my feet in the high-heeled ultra-feminine pumps, my arms were released from the leather cuffs which held them straining backwards. Hargrave now put a white brassiere around my chest and a diaphanous nylon blouse over the well-padded bra.
Once again the following promise was not kept.
Our next story will describe the bizarre experiences I had that week-end to Harry and Harriet and I let my transvestism take charge of our actions.

********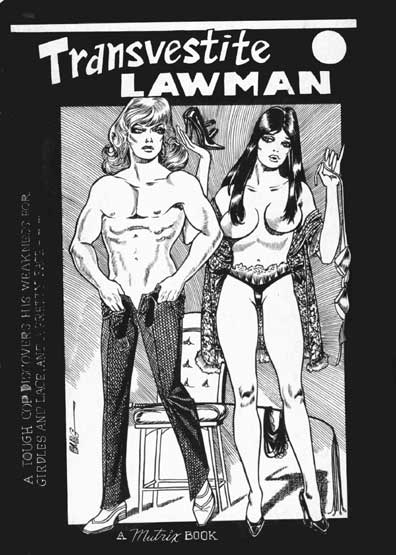 ITEM 119 - The Transvestite Lawman
Published by Mutrix in the 1960's
Illustrated with 8 drawings by Gene Bilbrew
Harold stood in front of the big mirror studying his grotesquely extravagant appearance. Not only was he obviously feminine in every detail of manner and bodily form, but this frankly erotic femininity was blatantly displayed in a most immodest manner for all to see. He shuddered at having been thus transformed into such a sexy caricature of a boldly seductive girl.
********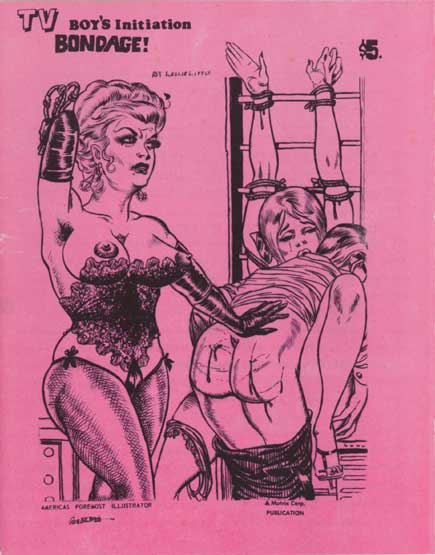 ITEM 120 - TV Boy's Initiation Bondage
Published by Mutrix in the 1960's
Illustrated with 12 somewhat related Gene Bilbrew Drawings
The story and art are good but they only vaguely go together.
The party was in full swing as Denise, dressed in his sexy black satin maid's uniform, moved about the guests carrying a silver tray serving dish.
********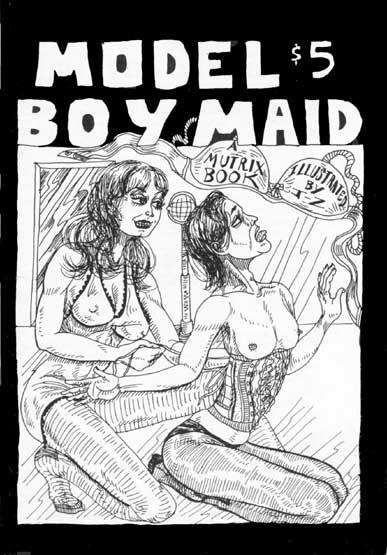 ITEM 121 - MODEL BOY MAID
Published by Mutrix in the 1960's
Illustrated with 6 J-Z drawings
As a final touch, Penelope gave him the pair of high heeled pumps to put on. They felt funny at first. Pauline was not used to high heeled shoes, and when he stood up, he tottered a bit.
"You'll get used to it, missy," said Penelope.
The following promised book was never forthcoming.
Be sure to read Book Two, when he is forced to participate in a fashion show, dressed as a female model, in front of hundreds of people. He doesn't know if he will give himself away, as he dresses in frilly nighties, and underthings....
********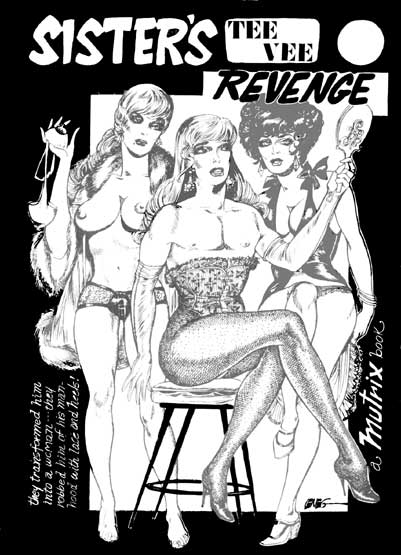 ITEM 122 - Sister's TeeVee Revenge
Published by Mutrix in the 1960's
Illustrated with 9 drawings by Gene Bilbrew
This is quite a good story with excellent art.
The final article of clothing for me was my blouse, and this was as startling as the rest of my costume. Like my skirt, this blouse was black, but it was made of the thinnest and loosest-weave silk imaginable, and was so gossamer in fabric as to be truly transparent. This was the see-through blouse to end all see-through blouses, and my white bra and red nipples could be clearly seen through it even in subdued light.