The Art of Petticoat Punishment
by Carole Jean
Part 35 - Miss High Heels and its Sequels
I have translated Miss Haut-Talons and its sequels
They are now available on Kindle
MISS HIGH HEELS AND ITS SEQUELS
MISS HIGH HEELS is perhaps the best-known TV novel of all time. It is the one TV novel whose fame seems to have reached into the general world of erotic literature. It is the only transvestite novel listed in Ralph Ginzburg's An Unhurried View of Erotica. The story was first published in English in 1931.
Before that, in 1929, a very similar book was published in French with the title Miss Haut-Talons. The French language edition and its two sequels were published by Select-Bibliothèque in Paris.
From 1909 thru 1939 Select-Bibliothèque published 98 numbered books with erotic fetish themes. Don Brennus Aléra and Roland Brévannes were listed as the authors of almost all of the Select-Bibliothèque books. Each book in the Miss Haut-Talons series was attributed to the 'translator' Bernard Valonnes (These three names are anagrams, if you allow u=v, and may well have been the same author). I can state with some certainty, having translated Miss Haut-Talons and its sequels, these books were written by the same person, and contain many of the same characters.
Rhodes believed that the original story of Miss High Heels was written sometime in the middle of the nineteenth century, that it was British in origin, and that quite possibly the original title may well have been Miss Satin Slippers. He stated that he found references to a French translation of it in a listing of pre-1912 vintage, and that he had a print of an illustration from such an early edition, which was reproduced in Turnabout #6.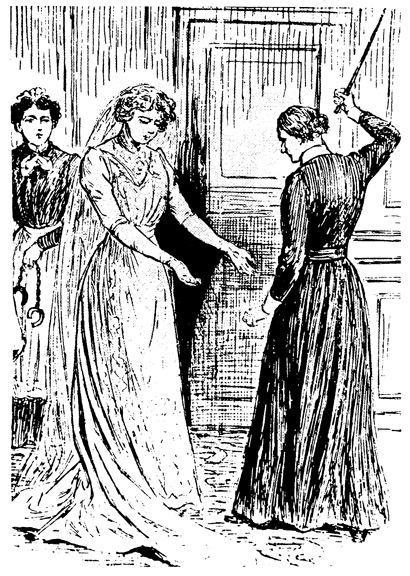 Farrer, however, states that, "I am puzzled by Rhodes' mention of a version of pre-1912 vintage, of which he thinks the 1929 edition is a reissue, which, of course, it is not and I have no idea where his illustration comes from or who drew it. It is not in Miss Hauts-Talons."
I also doubt that there was an earlier edition and I have discovered that Rhodes' illustration came from Souliers de Satin et Entraves d'acier by Bernard Vallones published as volume 37 in the Select-Bibliothèque series in 1912 with eight illustrations by Tack. The book was reprinted in English in 1924 by the Select-Bibliothèque as In Satin Slippers and Fetters of Steel by Sir O. T***, Esq. translated by Bernard Valonnes. It is said to be a "Classic all female bondage and flagellation novel illustrated with line drawings."
Having translated the 1929 French book, Miss Haut-Talons, into English and having carefully compared it to the 1931 Miss High Heels I feel certain that the 1931 book was inspired by the 1929 one, which I believe to be the very first published version of the story. There are several passages and situations in the two books that are similar but I would like to offer one section from Miss High Heels that particularly struck me:
Miss Priscilla led me into the punishment room where a sewing machine stood. She strapped my feet in their smart boots into the treadles, pushed a long mirror in front of me and said: "Now get to work, Miss High-heels!" I began to work the machine.
"Quicker! Quicker!"
I obeyed. In the mirror I could see the little feet in their fashionable dainty boots flashing up and down, undergoing punishment.
"Still quicker!"
My thighs bruised one another. My face got red, but not merely with exertion and then in a delirium of passion, the feet raced up and down, a wanton smile shone in my eyes and on my lips. Miss Priscilla made me go on working the sewing machine in my dainty gown and fashionable bright buttoned boots for the rest of the afternoon.
But I must pass over the incidents of that time, the revenge which Lady Hartley's daughter who was jealous, deliberately took upon Violet and myself, the punishment of the velvet bag, the mask, the short frock, the dancing lesson, the mustard and the poultices. If my readers wish to hear more about the penalties which my tyrants in their ingenuity invented, they have only to say the word.

The French text not only has a similar sewing machine punishment, it also has expansive versions of all of the other punishments briefly mentioned above. It is as if the English author, not wanting to include full descriptions all of the punishments he read in the French text, none-the-less could not resist mentioning them.
I wish to thank Peter Farrer for his comments that I have excerpted quite liberally in writing this review. I also want to thank 'D. RHODES' whose article On the Literature of Transvestism, which was published in Turnabout #7 and #8 in 1966, sent me looking for these books.
MISS HIGH HEELS (Miss Haut-Talons) IN FRENCH FROM SELECT-BIBLIOTHEQUE


Miss Haut-Talons - Select-Bibliothèque #61, Paris 1929
This story was attributed to Bernard Valonnes translating an English manuscript by Sir O. T** esq. It was illustrated by Esbey.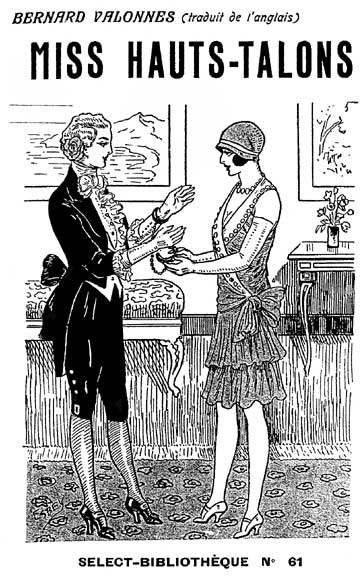 THE COMPLETE TEXT IN ENGLISH WITH ITS ORIGINAL ILLUSTRATIONS IS NOW AVAILABLE HERE.
* * * * *
Miss Boucles #1 - Select-Bibliothèque #76, Paris 1934
This story was attributed to Bernard Valonnes translating an English manuscript by 'Celia Farley', "the author of Miss Haut-Talons." It was illustrated by Esbey. Peter Farrer tells me that Kinsey has an English language copy of this book.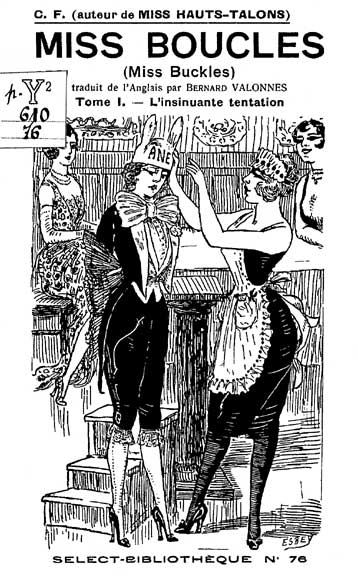 * * * * *

Miss Boucles #2 - Select-Bibliothèque #77, Paris 1934
This story was attributed to Bernard Valonnes translating an English manuscript by 'Celia Farley', "the author of Miss Haut-Talons." It was illustrated by Esbey.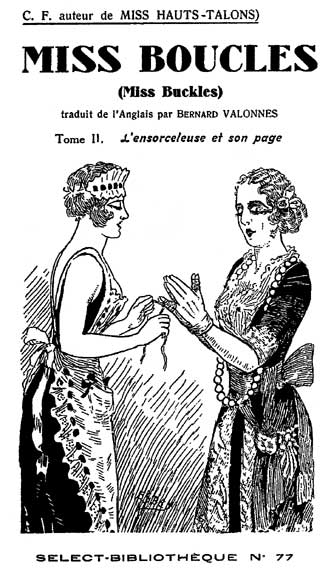 * * * * *
Le Page Efféminé (Miss Sissy) #1 - Select-Bibliothèque #93, Paris 1938
This story was attributed to Bernard Valonnes translating an English manuscript by 'C. F.', "the author of Miss Haut-Talons and Miss Boucles." It was illustrated by Selby.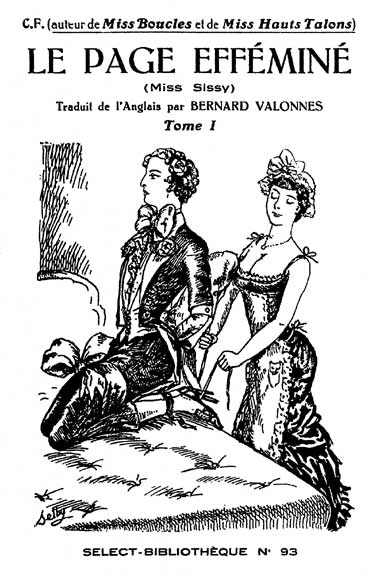 * * * * *
Le Page Efféminé (Miss Sissy) #2 - Select-Bibliothèque #94, Paris 1938
This story was attributed to Bernard Valonnes translating an English manuscript by 'C. F.', "the author of Miss Haut-Talons and Miss Boucles." It was illustrated by Selby.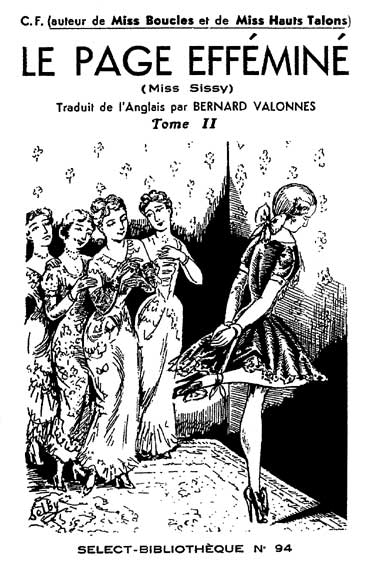 * * * * *
Le Page Efféminé (Miss Sissy) #3 - Select-Bibliothèque #95, Paris 1938
This story was attributed to Bernard Valonnes translating an English manuscript by 'C. F.', "the author of Miss Haut-Talons and Miss Boucles." It was illustrated by Selby.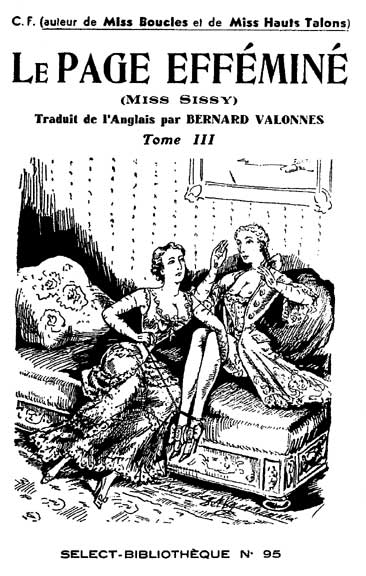 * * * * *


Farrer states that broadly speaking the 'heroes' of these books do not dress as girls or women. They are all youths in their late teens: all are virgins and will remain so under their subjection. They either develop or are given feminine breasts. They wear some form of femininely modified outer male costume, a tailcoat with diamond buttons and a large bow in the rear at the waist, knee length trousers or culottes with diamond buttons and buckles, often in velvet, Fauntleroy style, but with an elaborate feminine coiffeur and every accessory of dress or article of underwear is of extreme feminine delicacy and luxury: dainty silk women's chemises and knickers decorated with bows and lace, exquisite tightly laced women's corsets, to which are attached silk stockings of the finest texture, elegant women's boots or shoes with heels of extreme height, long tightly buttoned women's gloves. Their body hair is removed by chemicals and electric needles, their skin is treated with ointments, powdered and protected from the sun, their lips are colored, their eyelashes are mascaraed, they are perfumed, their nails are polished, their ears are pierced (to their great humiliation) and they display considerable other feminine jewelry.
The women in the books want the youths to love their women's clothes and their subjection to them. They are constantly being asked do they not love their women's satin corsets, their girl's shoes? Throughout the books the victims are whipped and tied up, in fact tortured, with fiendish cruelty, and their sobs and screams are delighted in by the ever present feminine witnesses, be they maids or fashionable and beautifully dressed ladies. The essential point is that the appearance of the victims should remain ambiguous. They are to be seen as boys who have been feminized, but not completely changed into girls, although in one or two cases this is hinted at.
The author of Miss Boucles begins by saying, "I have received much encouragement from those who read my book, Miss Haut-Talons, four years ago, so I have decided to write a sequel entitled Miss Boucles."
The story continues in the Curle estate where Miss Haut-Talons ended. There is an entire village set deep within a privately owned park in rural England. This immense park is overseen by a fanatical feminist named Elsie Curle in the name of its real owner, her stepson Adrian Curle the 'hero' of Miss Haut-Talons. In the village live a number of wealthy young women and their women servants. These ladies, however, maintain a corps of pages, "each the slave of his particular mistress whose sole object was to feminize her young boy-girl and transform him into a complete girl. These boys, beautifully trained in smart feminine attire, were brought to this village to be punished and trained in the utmost severity . . . These boy-girls went about in tightly corseted fashion, their arched feet in feminine shoes with fantastically high Louis XV heels, and garbed in fantastic feminine costumes of a rather bizarre nature, as though garbed for a fancy dress party."
The story itself deals primarily with the efforts of a Miss Vivian Dainty to domesticate and feminize her ward, the very handsome and effeminately pretty Rose-Dorian Buckles. When Rose-Dorian is tossed out of his boys' school because the schoolmaster thought his personal beauty too distracting to the other boys, Miss Dainty's course of action was obvious. Poor kid, though. This turns out to be as much a bondage story as it is a transvestite one. Besides pretty clothing, handcuffs and leg straps are the daily lot of the lads in this book along with frequent beatings.
Le Page Effemine was published in three copiously illustrated volumes. The title means "the feminized page-boy," and throughout the story the stress is on a boy completely in the control of a sadistic woman who does not put him in dresses or complete feminine costume but keeps him in highly sissified male garb with many feminine elements, such as corseting and the inevitable high heels and long gloves. The preference here is not to transform the boy into a girl and make him enjoy the transformation; rather, it is to humiliate the boy and to keep him constantly aware of his humiliation. Most of the story takes place in the Curle estate and we meet several familiar characters.
MISS HIGH HEELS IN ENGLISH
The English language printings of Miss High Heels began in 1931. The book appears to have been written by an Englishman, set in the Edwardian period, using some scenes and elements in the plot of Miss Haut-Talons and adapting others. There is no question but that Evelyn is to be dressed completely as a girl. The title page of the 1931 edition states:
Miss High-heels.
The story of a rich but girlish young man under the control of his pretty step-sister and her aunt, written by himself at his step-sister's order, with an account of his punishments, the dresses he was made to wear, his final subjection, and his curious fate.
Privately printed
Paris, 1931.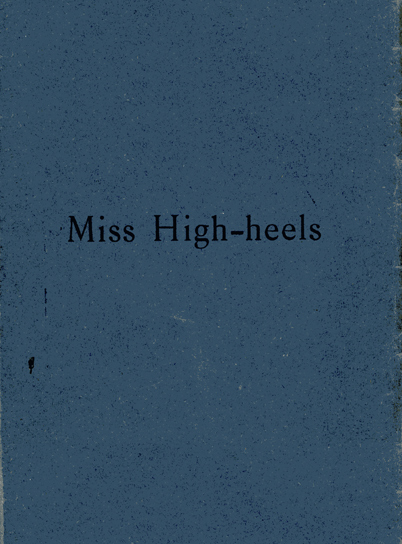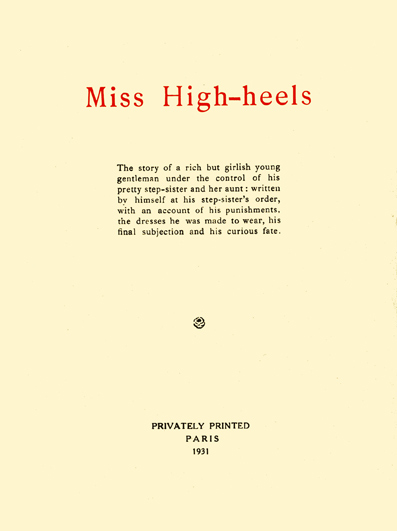 This first edition was published in Paris, and it does not bear the name of any author or that of any printer or publisher. The date alone certifies to its publication. However, P.J. Kearney (The Private Case, p.252) and Peter Mendes (Clandestine Erotic Fiction in English 1800-1930, p.394) both state that the English Miss High Heels was published by Frank Groves and Michau and written by Frank Groves. This information is apparently based on a verbal communication from G. Legman in 1964. It was not illustrated. However, illustrations are a vital element in TV literature, and this lack was remedied in the various editions which have appeared since and which were derived from the 1931 edition.
The next appearance of Miss High Heels was in the form of a book titled Hermaphrodite in Silks, illustrated by the famous Mahlon Blaine. (Rhodes states that he has been informed that this same bowdlerized edition appeared under the title Pleasures in subjugation, but he had never seen that particular edition himself. Neither have I). It bears the title-page byline of 'Masoch', and the imprint is of the Olympia Press, Paris. There is no date of publication but it was likely printed in the 1940s. Comparison of this edition with the 1931 version reveals that the text is identical but that it has been clumsily abridged, pages simply being deleted wholesale. The illustrations, usually white on red paper, are invariably flagellation scenes, have little to do with the text and feature a partially clad Amazonian woman in fetish wear spanking or whipping a nearly naked victim. They are not likely to appeal to the TV at all. (Rhodes states that an inquiry made to the Olympia Press in Paris drew forth the information that this edition was a fraud and that whoever published it, it was not Olympia).
The title Hermaphrodite in Silks derives from the fact that by some odd circumstance the hero has the bust of a young girl, an accident of adolescence which is not impossible and which has been known to occur in a small number of cases.
Escape into Bondage books 1 & 2 published by H-H Associates 85 West 34th Street, Bayonne, N. J. in 1963 reprints most of the 1931 book and adds a number of illustrations by Eric Stanton who modernized the clothes and emphasized fetish wear. However, the publisher has deleted ten pages of the final two chapters of the 1931 version probably to fit the book into their sixty-four page format. The pages that it does include are faithful to the original edition down to the spelling and punctuation errors. Oddly one of Eric Stanton's drawings illustrates a scene from the deleted pages. Clearly Stanton had the complete text and the publisher didn't notice or didn't care that one of his illustrations no longer had corresponding text. There are more illustrations and text from this book on one of my Eric Stanton pages - cjart006.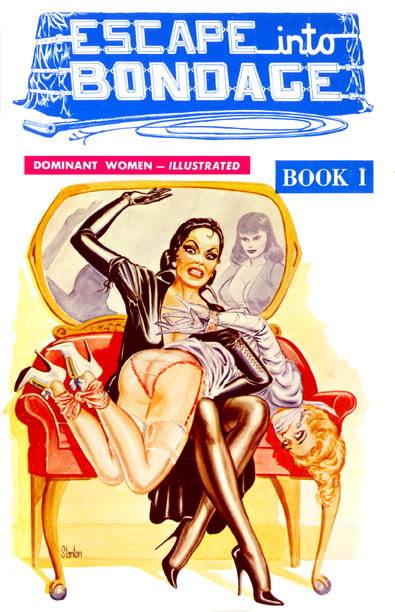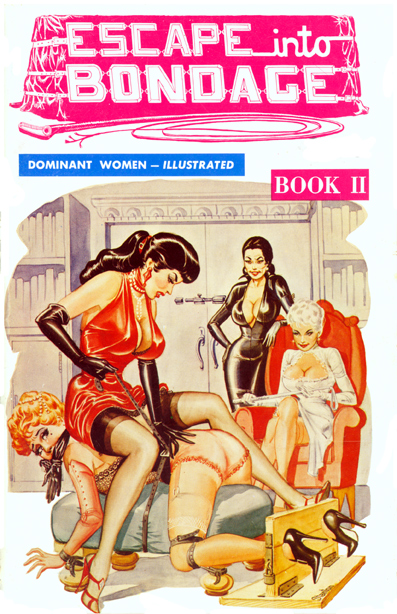 Miss High Heels by Anonymous 1969 Grove Press, Inc. Not illustrated. The dust jacket refers to the 1931 edition and the text is restored to that version. This book was published in paperback and hardbound.
Miss High Heels by Anonymous 1988 Blue Moon Books, Inc., New York. This appears to be the same text as the 1931 Grove Press Edition. Blue Moon published at least three editions of this book thru 1990. It has no illustrations.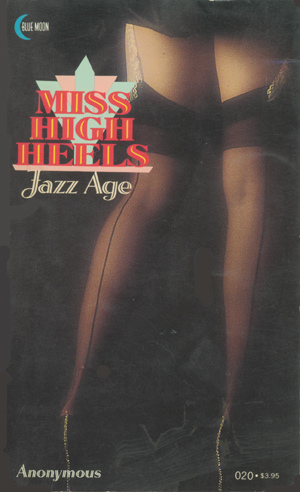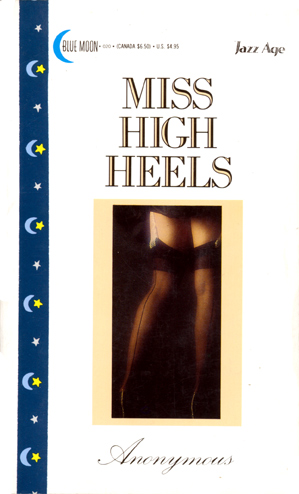 Miss High Heels by Anonymous 1992 Masquerade Books, Inc., New York with no illustrations. This version has additional and modified text.