'The Squirming Quintet, A frightful Story by PRIM', is a ten page comic book style story (with an incomplete 11th page) that has never been in print. As the text is very hard to read at the low resolutions required by my web page, I have provided a complete transcript of the story.

PAGE 1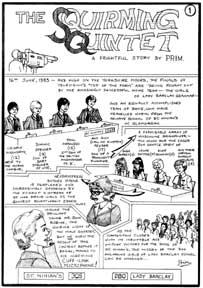 16th June, 1983 – and high on the Yorkshire moors, the finals of television's "Top of the Form" are being fought out by the amazingly successful home team – the girls of Lady Barclay Grammar – and an equally accomplished team of boys, who have traveled north from the private school of St. Ninian's in Glamorgan.

The boys are Crispin Ainsworth (12), heir to the micron combine: Dominic Spencer (13), son of Bart Spener of Wye: Paul Harkness (15), 2nd son of the British Ambassador to X: and Guy Pender (17), son of a prominent financier. A formidable array of masculine brainpower – too much for the eager but gentle spirit of girls.
Headmistress Anthea Maine is increasingly saddened by the evident distress of her brave girls as the contest relentlessly edges away.
Unlike Mr. John Robins, the guiding light of the male quartet. Bet he knew the result of this contest before it began, thanks to his ingenious cuff-link microphone.
As the competition closed with its inevitable and unjust victory for the boys of St. Nivan's, the misery of the 300 onlooking girls of Lady Barclay School can be imagined.



PAGE 6
Each of the boys is carried up . . . and deposited in one of the girls' dormitories, where the dormitory mistresses calmly made themselves scarce while the girls get their 'guests' ready for bed.
They were soon nicely dressed . . . in frilled nighties . . . with pretty panties to match!
Harkness tried to object when he saw his pink nylon nightdress, but the sixth-form girls had no trouble reducing him to jelly . . .
. . . and the fourth-formers had a good time with Pender, wanking him into the sink (four times) until he was dry.
Meanwhile, in Miss Maine's bedroom . . .
"There we are, Robins . . . A pretty blouse, and a nice mirror for you to see yourself – and the open wardrobe behind you. If you are to teach my girls tomorrow, YOU will be dressed in MY clothes!"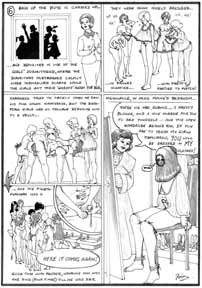 The last PRIM illustrated story I have is the 13 page 'Sailor Boys'. When the ladies discovered that their new young husbands were too cowardly to join the navy, they decided to gain access to the naval social circles in another way. They were certain that the sailors would love to have a couple of pretty boys on board. These drawings are oh so cute - but a few are also a bit graphic. Personally this is one of my favorites.
I have another 137 vintage PRIM original drawings are single pages and not part of any story that I am aware of. If you are interested they are also available as downloads. Here are a few samples.

Note the long legs and short torso in these drawings. They are characteristics of PRIM drawings. High collars and ribbons used as restraints are also frequently seen. I enjoy the sense of the anticipation of humiliation in PRIM's work. This is an artist who is in touch with the emotions engendered by Petticoat Punishment. His efforts are, therefore, all the more effective.
If you want to see more of this Prim's art Go here they are item #23 thru 28