His earliest PP stories in my collection are the 'Tame-azons' for Nutrix. In 'Tame-azons subdue and subjugate man', Nutrix 1960. Michelle hires the tame-azons to straighten out her husband, Paul Punymite. After they beat him, their leader, Queen Portia decides his fate.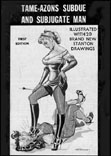 "You should know better than to bring a weak and puny man into my presence without fitting female clothes on his inferior body! Take those torn clothes away from him and place feminine attire on him to denote his lowly present stature."

This speech makes me smile each time I read it. Can you imagine anyone actually taking like this? How about her statement that feminine attire denotes low stature? Doesn't that seem inconsistent with 'his inferior body'? Wouldn't looking like a woman cause him to gain stature in the eyes of the 'Tame-azons'?

A forced transformation ensues.
While Portia was slipping a pair of sheer black nylon stockings on his legs, Potentia sat astride Paul's chest, pinning him down with her body weight, placing lipstick on Paul's lips. Paul tried to throw her off his chest but was unable to do so. The transformation continues with shoulder length black kid gloves, high heels, tight lacing, a padded bra and wig. Next comes a dress, a steel gag in his mouth and ropes tight around his arms and hobbling his ankles. Paul had no wish to be dressed in feminine clothes and he strained to break free but did not have the strength.

The story ends with us discovering that the transformation was only a troubled dream Paul experienced while tied up by the Tame-azons. None the less, his behavior changes for the better:

"I'll be good from now on," Paul said. "I love my wife and will never need your services again."

In 'Men Tamed to Submission by Tame-azons', Nutrix 1960, Portia and Potentia are hired to subdue and vanquish Dan Marlo, a well-known star of television, who specializes in he-man roles. They spirit the drunken actor away from a party with the help of chloroform. While he is unconscious, the girls lace him up in a corset than gag and bind him.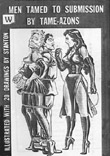 The instructions that came with the girl's fee from their anonymous employer were very explicit. Since Dan Marlo was always bragging about his masculinity and the fact that he was usually selected for he-man roles, the Tame-azons were to humiliate and degrade him by dressing him in feminine clothes and forcing him to act as a girl.

The plot twist is that Dan had anonymously hired the girls himself as a publicity stunt, figuring he could overpower them and escape whenever he wished. When he regains consciousness, however, he finds himself helpless in the expert hands of the tame-azons.

Fear and humiliation showed on his strained face as Potentia began slamming him around. His pride was hurt and he was unwilling to admit that a woman could overpower him.

The gag in his mouth prevented him from telling the girls that he was their employer. Before he knew it, his pants were torn and tattered up to his thighs, his gloved arms were tied behind his back and his booted legs were strapped to rods.

Cringing with terror at the plight his desire for publicity had brought him to, Dan wracked his brain for a solution but none was forthcoming.

One girl placed a ruffled maid's cap on his head that caused both tame-azons to laugh at him. The girls then took great pains to make him look more feminine and turn him into their maid. The put him in a pink nylon tricot half-slip with matching ruffled trim along the edges, plucked his eyebrows as he writhed and squirmed to no avail, they put cosmetics on his face, high-heeled boots on his legs and a maid's dress and apron on his body.

The story now loses me as Dan decides that he is happy in female attire. He cooperates eagerly in changing to street clothes, selecting his own satin bra and lacy panties. He then insists on being permitted to wear them home.

My next PP story illustrated by Stanton is 'They Made Him Love it', Mutrix 1962.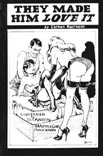 Bill, a fourteen-year-old boy, was a particularly nasty practical joker. His older sister, Grace, and her new husband, Tom, became responsible for him when his parents died ('First kill the father' is a frequently used plot device in PP stories). After he pasted stickers all over town that read, "Grace sucks for a buck. Call 555-6543." Tom decided that Bill had to be shamed.

Tom hit him in the stomach until he promised to obey, then put him in pantyhose, panty girdle, padded brassiere, short black skirt, black sweater and high-heeled shoes. Then paraded him around the house.

In helplessness and rage, Bill turned on Tom and Grace. "I don't care what I did to you two. You can't make me dress up and look like a girl this way. I can't stand it. It's too awful."

His protests lead to additional punishments. They tie him across a stool and spank him with a Ping-Pong paddle. When he is softened up, they take pictures as permanent mementos of his humiliation.

He spends the night in costume and the next morning they diaper him with a bath towel and dress him in tight rubber panties with ruffled and bowed panties over them. Then they put him in short white ankle socks, black strap shoes, hip length white dress with short cap sleeves and smocking and rosettes across the front. (I can't imagine where they got all of this clothing. It doesn't sound like anything one would normally have around the house. Much TV fiction makes these unbelievable leaps. The author, "Carmen Bastinado", wanted Bill dressed as a little girl but didn't want to bother writing about acquiring the clothing.)

They gave him a doll and sent him out in the yard to play. After a few hours of that, including Bill finding to his horror that his diaper was to be functional, they decided to change his costume.

This time they happen to have a corset and maid's uniform. I understand that this is a work of fiction, but at least try to make it believable. The damn corset even has a built in gaff with fake fur to simulate public hair.

Within another day, 'Wilma' as Bill has been renamed, decided that he would like to go on dressing as a girl. Seventeen more pages follow, but by now, I have totally lost interest.

In 1963, Stanton did a few very clever drawings for the Selbee magazine, Female Mimics. These are from Female Mimics 1, Female Mimics 2 and Female Mimics 3.